The Lord's signs and wonders certainly prove Him to be what He claimed to be: The Son of God! The healing of the Centurian's servant, which we read this Sunday, is not intended just to demonstrate the Lord's power to heal. The healing of the centurion's servant contains several short lessons that characterize the life in Christ. Christians who hear this small section of the Gospel –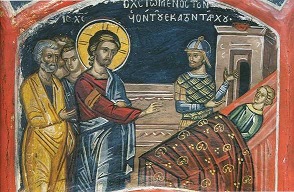 that's us- must pay close attention to the way in which these instructions may be applied to their own lives.
The basic elements of the story are few. First, the centurion, a Roman commander of 100 soldiers, has complete confidence that Jesus is able to heal his servant. Second, the Lord expresses willingness to go to the centurion's house, which in the eyes of the Jews would make Him unclean. Third, the centurion declares himself unworthy of such a visit and displaying great humility, declines. Fourth, the centurion reveals profound faith in Jesus: "Speak the word only, and my servant shall be healed."  At this Jesus marvels, as He declares that He has not found such great faith in Israel; (one other time He marveled, it was at the unbelief of the people of His hometown Nazareth). A final element: Jesus declares that those chosen to be the children of the kingdom would be cast out and replaced by others. After this, He tells the centurion to go his way and that his servant is healed.
St. Ambrose sees the healing by the Lord's word alone as proof of His equality with the Father. He says: "as the Father spoke the Son made, so too, the Father works and the Son speaks". And St. Basil the Great emphasizes that it was the Savior's word and NOT His presence that healed the sick man.
The centurion is a striking figure. When he meets Jesus in Capernaum, he is a man already possessed of a deep faith in Jesus' power to heal, even by a word. How the centurion came to his faith is NOT explained by St. Matthew, but we have other details in St. Luke's account of the same miracle. It should be recalled at this point that although the synoptic Gospels – Matthew, Mark and Luke – sometimes differ in detail when reporting the same incident, those differences do not diminish their authenticity. In St. Matthew's gospel he simply relates what went on between Jesus and the centurion. St. Luke tells us details that immediately took place before, such as how the centurion sent his Jewish friends to plead his case. "I did not even think myself worthy to come to you", he says. The centurion's frequent contact with the Jews must have given him some familiarity with their faith; perhaps he experienced the holiness of their worship -worship of the one true God- and maybe he was even aware of their messianic expectations. It's unlikely that Jesus and His work among the people could have escaped his attention. His own faith -forcefully portrayed in just a few words- may have arisen from a strong sense that Jesus was the very one awaited by the nation he had come to love.
Another detail from St. Luke's account tells us that the man's Jewish friends – identified as elders – considered him worthy of Jesus' good favor (although they are impressed by something other than his faith) saying: "the one for whom He should do this was deserving, for he loves our nation, and has built us a synagogue". In other words, he held an important position, and was a big donor to their synagogue, and so they brought his plea to Jesus.
However, the things that really matter – the centurion's humility, faith, and concern for another – seem NOT to have made much of an impression on them. It's not difficult to see the similarity between the mindset of those religious leaders and that of some of our own people. And not a few priests/bishops have heard requests on behalf of others who were deemed worthy just because they had position, authority or money.
Clearly, when the centurion speaks to Jesus of his position and rank, he's not boasting. Quite the contrary. "I am a man placed under authority." That is the key expression. He derives his authority from another and applies it in the line of duty. St. John Chrysostom describes the implications: "'I am a man placed under authority'(the centurion says): that is, You are God, and I man; I under authority, but You not under authority. If I, therefore, being a man, and under authority, can do so much; far more He, both as God and as not under authority". The same saint is certain that this Roman Gentile, unlike his Jewish friends, suspects Jesus' divine dignity – recognizes that He is the Son of God (not the last Roman centurion to realize this).
The Christ preached by the Apostles was the Christ who gave Himself out of love for mankind. He is the One who receives all who come to Him in faith and humility, i.e. those who love Him. He is NOT moved to respond to our petitions because of some supposed worthiness on our part. Our accomplishments, position, wealth, and fame do NOT commend us to Him. Neither does our belonging to a particular race or nation, and neither does membership in His Church, IF we make NO effort to live in accordance with His will, IF we have NO faith or humility, IF we think of ourselves as deserving His salvation, or IF we think only of ourselves and never earnestly desire the well-being of others.
This is the Christ that the apostles and disciples proclaimed as they undertook their great missionary work after having been filled with the Holy Spirit at Pentecost. This is the same Christ our Church proclaims today, so let's pay close attention to the faith and humility of the centurion. And to his approach. One of the great communion prayers that our church gives us as we approach Christ bears the same words as the humble centurion: 'I know, O Lord my God, that I am not worthy that you should enter under the roof of the house of my soul." But recognizing the Lord and His goodness we say, "but since You in Your love desire to dwell in me I take courage and approach." Let us then take courage and approach and taste and see that the Lord is good! +
Based on a homily by Archbishop Dmitri Royster found in 'The Miracles of Christ'. St. Vladimir's Seminary Press. Crestwood (NY), 1999.